Area
shopping and dining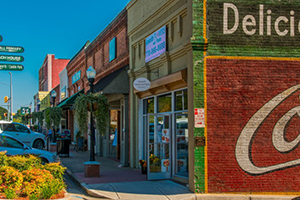 After a round of golf or day of activities, take a stroll to the market located just outside our gates. Governors Market Square is modeled after the historic Marietta Square. Highlights include a park featuring turn-of-the-century architectural accents and a Publix shopping center. A variety of eateries are also available to Governors Club residents within a short walk from the community. Governors Market Square provides a wonderful gathering place for community events, such as the 4th of July fireworks.
---
Historic Acworth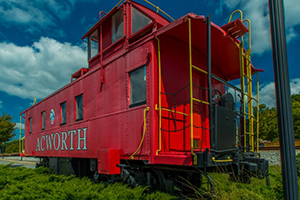 Acworth offers the outdoor enthusiast hiking, boating and fishing options within minutes of Governors Club. Additionally, arrays of flavors are available for the culturally curious, along with a healthy dose of art and history.
Located along a portion of the original Dixie Highway, Acworth is the perfect blend of both past and present. Acworth is a member of the National Main Street program and was designated a Georgia Main Street City in 2000. In a commitment to preserve its heritage, the Historic Downtown District retains its Victoria Era architecture and charm. For example, within the architecture are vibrant, modern, and culturally diverse entertainment options. Whether you prefer rich Italian, spicy Cajun, or a simple wine tasting, Acworth has an option for every taste.
Acworth's brick-laden sidewalks offer a variety of shopping experiences as well. For example, stop by the Acworth Bookstore and Coffee Shop and strike up a conversation with a local historian. Or if you have a more modern personality, chic women's apparel and stunning handmade jewelry are on display at a variety of shops. Spend a Sunday evening with the family at the local ice cream parlor and relax in the shade at Frana Brown Park. Or sit under the Acworth Depot and wave as the historic train passes through town. In this blend of past and present, there's sure to be something for everyone!
---
Lake Acworth and Lake Allatoona
Acworth is ideally located between Lake Allatoona and Lake Acworth offering Governors Club residents a variety recreational activities. Go for a swim at Cauble Park on Lake Acworth, or head out on a canoe for an afternoon of fishing. Those who prefer a challenge can head out on the water for a day of paddleboarding. No gas powered watercraft are allowed on the lake, which makes for a peaceful waterfront setting.
Lake Allatoona offers Governors Club and area residents waterfront camping, parks, and marinas. One of Georgia's premier state parks, Red Top Mountain State Park is found here. Eight full-service marinas are also available for any boating related needs. Collectively, the parks at Lake Allatoona offer boat access, beaches, playgrounds, picnic facilities, fishing access, and more.
---
Lakepoint Sporting Community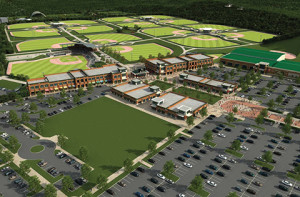 The area surrounding Governors Club also offers plenty of activities to keep sports fans busy! Less than ten minutes from Governors Club is LakePoint Sporting Community, a one-stop destination for traveling sports families.
At more than 1,300 acres, the complex is on track to be one of the world's largest destinations for travel sports. Lakepoint Sporting Community is located in the foothills of the North Georgia Mountains, adjacent to beautiful Lake Allatoona. The complex features state-of-the-art sports venues and five million square feet of amenities. These include on-site hotels, restaurants, themed retail, bowling, zip lines, water parks and much more.
Lakepoint was developed by a group of partners who lived the travel sports lifestyle. The complex promises to transform travel sports tournaments into family vacation experiences like no other. Lakepoint provides fields, locker rooms, training, and stands, while maintaining every detail to ensure each team's success. Additionally, the complex also provides team transportation, dining options, uniform cleaning, and sibling entertainment.
Hotels and restaurants are also available onsite and the local community is encouraged to visit. LakePoint Sporting Complex is conveniently located off Interstate 75 in Emerson, Georgia less than 10 minutes from Governors Club.
---
Suntrust Park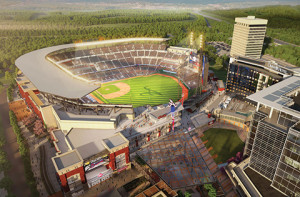 SunTrust Park is the new home of the Atlanta Braves. The park is a mixed-used development that recently opened this spring in 2017. The new location is a short drive from downtown Atlanta, near the northwest intersection of I-75 and I-285 in Cobb County.
Featuring a more intimate configuration, the ballpark is designed with the fan in mind. With 41,500 seats, the layout maximizes sight-lines and elevations. This places a higher percentage of seats closer to the field than any other ballpark in Major League Baseball. A 90-foot roof and air conditioning on every level is sure to keep most fans cool on hot summer days. Additionally, children can run the bases on a mini-field kids zone next to the ballpark.
The topography of the property is carefully integrated into the design as well. Because the ballpark is built into the hillside, fans can expect to enter on the home plate side on the mezzanine level and enter the outfield at field level.
The plaza is a grand central gathering space for fans, families, residents and visitors. It serves as a hub of activity, with new and fresh events throughout the year. Residents and visitors can catch a concert, movie, or a craft beer in neighboring venues. On game days, members of Braves Country gather in the plaza, surrounded by iconic team monuments and championship flags.